The Art of Making Desserts Rich in Calcium and Vitamin D
Calcium and vitamin D are two of the most important nutrients for kids. While calcium is abundantly responsible for bone health, it is only in the presence of vitamin D that the body can absorb calcium from the food sources. Fortunately, the human body can make vitamin D on its own with the help of sunlight, UVB rays to be specific.
But apart from sunlight, there are not really a lot of foods that contain vitamin D, especially when it comes to making delicious desserts for your kids. Milk is one of the most common ingredients in a lot of desserts, however, it does not contain adequate amounts of vitamin D. So, a better alternative is to use milk fortified with calcium and vitamin D.
If you are looking for desserts that are rich in calcium and vitamin D, here are some great options.
1. Pumpkin, Avocado and Chocolate Mousse
Ingredients:
- Avocados- 2
- Pumpkin puree- 1 cup
- Cocoa powder- ¼ cup
- Dates- 5
- Pumpkin pie spice- 2 tsp.
- Fortified milk- ¼ cup
Simply add all these ingredients to a blender and blend until smooth. The end result will look and taste just like chocolate pudding and the kids are sure to love it. Apart from the calcium and vitamin D in fortified milk, avocado and pumpkin are also excellent sources of many different vitamins and minerals.
2. Mint Chocolate Pudding
Ingredients:
- Pitted dates- ½ cup
- Hot water- ½ cup
- Cocoa powder- ¼ cup
- Fortified milk- 2 cups
- Peppermint extract- ⅛ tsp.
- Vanilla extract- ⅛ tsp.
- Cornstarch- ¼ cup
- Fresh mint leaves- 8
Take a small bowl and add hot water and dates in it. Let it sit for about 15 minutes before pouring the mixture into a food processor. Blend this mixture until a smooth paste is formed. Take a large pot and place it over medium heat. Add the date paste, cocoa powder, cornstarch, vanilla extract, peppermint extract, and milk.
Whisk all these ingredients until a thick pudding is formed. Remove the pot from heat after the pudding reaches the required thickness. Garnish with mint leaves and serve hot or cold.
3. Fruit Custard
Ingredients:
- Custard powder- 1 tbsp.
- Fortified milk- 1 bowl
- Brown sugar- 2 tbsp.
- Water- As required
- Apple- ½ (chopped)
- Banana- 1 (chopped)
- Grapes- 10 (chopped)
Boil the fortified milk in a pan. While the milk is boiling, take another bowl and put brown sugar and custard powder in it. Add some water to the bowl and mix the ingredients well. Add this mixture to the boiled milk and whisk thoroughly to ensure no lumps are formed. Bring this mixture to simmer before transferring the contents into a bowl.
Add chopped apple, banana and grapes. Keep it in the refrigerator for about 2 hours and serve chilled.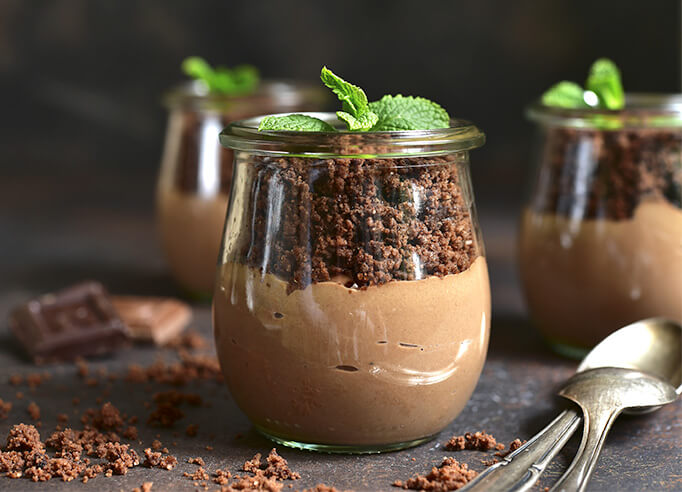 4. Raspberry, Quinoa, and Chocolate Pudding
Ingredients:
- Cocoa powder- 2 tbsp. (unsweetened)
- Granulated sugar- 3 tbsp.
- Quinoa- ½ cup (rinsed and drained)
- Raspberries- 1 cup
- Fortified milk- 2 cups
- Vanilla extract- ½ tbsp.
In a medium-sized pan, whisk sugar and cocoa powder until they blend nicely. Gradually add milk to this mixture before stirring in the quinoa. Over medium heat, bring this mixture to a boil while occasionally stirring it. Now, reduce the heat and cover the mixture for about 20 minutes. Keep stirring occasionally.
Once the mixture is thick, remove the pan from heat and add vanilla extract and raspberries. Cover the mixture and let it stand for about 15 minutes. Serve hot or store it in a refrigerator for about 1 hour and serve cold.
5. Honey Strawberry Ice Pops
Ingredients:
- Chopped strawberries- 3 cups
- Honey- ¼ cup
- Lemon juice- 2 tbsp.
- Fortified milk- 1 cup
Add strawberries, lemon juice, and honey to a blender and blend a few times for mixing the ingredients. Once the ingredients have blended nicely, add fortified milk and continue blending until a smooth puree is formed. Pour this mixture into ice molds and freeze for 3-4 hours.
Try These Amazing Dessert Recipes Today
All the recipes listed above are super easy and contains loads of essential nutrients along with calcium and vitamin D. Try them as mentioned in this post or experiment with the ingredients to add your own touch to the recipes.
Rest assured that these nutrient-rich dessert recipes are appetizing and are sure to be loved by kids and adults alike.