Why and How to sneak in Curd in your Child's diet?
Ask your kid to have anything healthy, and the first thing that comes out of their mouth is a big no. Kids of every age associate the word 'healthy' with a bunch of bland, bad looking foods, and that is one reason they do not want to have anything healthy. However, there is one exception to this list of healthy foods that kids like. Curd!
One of the staple foods in the Indian kitchen, curd is loaded with health benefits. Just a bowl of curd in your kid's diet every day can load them up with their daily requirements of a number of nutrients like calcium, protein, vitamins, and healthy gut bacteria.
Consider these benefits of curd:
- Extremely rich source of calcium: Calcium is vital for healthy teeth and bones. If your kids are lactose intolerant or simply do not like milk, then curd is the best alternative. Curd has higher levels of calcium in it when compared to milk, and just one bowl is enough to fill them up with the daily requirement.
- Loaded with good probiotics: The processed and junk food kids eat messes up with their digestive system — curd, formed by fermentation of milk, stores all the good bacteria in it. Eating curd daily helps kids maintain their daily bowel movements and keep their gut strong and healthy.
- Protein requirements: Yogurt is also a great source of protein. If you're a vegetarian family, then your daily dose of protein can be met with just one big scoop of curd.
- Weight Watcher: Child Obesity is a significant concern in today's time. This problem can be kept at bay with curd. Curd helps kids feel fuller for longer. This, in turn, will reduce the chances of your kids indulging in eating fast/junk food, and increasing their risk of obesity.
- Curd is tasty- Along with all the amazing health benefits it has to offer, another great thing about curd is it's delicious and can be paired with everything else your family eats. Curd can be paired with daily meals, can be served as a dessert, can be turned into tasty, healthy smoothies, and eaten as Raita.
Here are a few fun recipes to try and include curd in your kid's diet, so they cannot refuse to eat it.
1. Fruit Smoothies with Curd
A perfect evening snack that is tasty, refreshing, sweet, and irresistible.
Ingredients:
- Curd
- Frozen Berries (Strawberries, Raspberries, Grapes, Blueberries)
- Bananas
- Orange Juice (Preferably fresh)
How to make it:
- Add everything to the blender and blend until smooth. Serve chilled.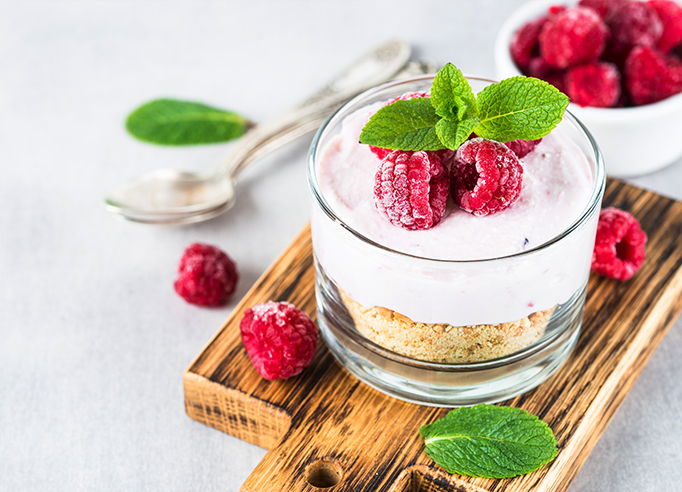 2. Frozen Curd with Berries
A perfect dessert for the sweet-tooth
Ingredients:
- Curd
- Strawberries
- Honey
- Lemon juice
- Vanilla essence
How to make it:
- leaving strawberries aside, mix everything else in a bowl
- If honey is not enough, add sugar as per your taste.
- Transfer the contents into a fancy cup/bowl, top it off with sliced strawberries, and freeze for 2 to 4 hours.
3. Deviled Eggs with Curd
This serves as the perfect breakfast side or evening snack
Ingredients:
- Hard-boiled eggs
- Finely chopped onions, coriander, and green chili
- Hung Curd
- Mustard Sauce
- Salt and Pepper
- Red Paprika
How to make it:
- Slice hard-boiled eggs into halves and take out the yolk.
- Add yolk, onions, coriander, green chili, curd, mayonnaise, mustard sauce, salt, and pepper to a bowl and mix until smooth.
- Using a scooping spoon, place the mixture over halved boiled eggs and garnish with paprika.
4. Hung Curd Dip
It's a perfect side with various snacks
Ingredients:
- Hung Curd
- Chopped onions, spring onions, coriander, and green chilies
- Cheese
- Salt and pepper
How to make it:
- Mix all the listed ingredients and enjoy with chips, vegetables, pakoras, or French fries.
Curd has been famous for its tremendous health benefits and its creamy taste since forever. To reap its benefits, make sure you serve your kids with homemade curd and not commercial yogurt, as it is not free from sugar and preservatives. Try these yummy recipes and more and serve your kids with the goodness of this fantastic dairy product.
Reference links: