Nutritious Summer Drinks for Kids
The blazing Indian summer has the power to sap the energy of elders making them irritable and lethargic. But for kids and adolescents, it's different! The season is all about fun, frolic, and enjoyment. You'll find them running around, swimming, cycling, playing backyard games etc. But wait, all this physical activity can work up a sweat and easily trigger dehydration, fatigue, and dizziness.
To ensure children remain in their high spirits in the sweltering weather it's crucial to keep them hydrated. The simple solution would be to ensure they sip plenty of water but this is a big challenge. Kids always have excuses like "not thirsty" or "can't drink plain water" up their sleeve right? In such a scenario, fluid replenishment has to be planned carefully.
Packaged juices and colas are a no-no since they are loaded with sweeteners and unwanted additives. What better way than to whip-up drinks that are scrumptious, healthy and rejuvenating. Read on for some great thirst quenchers that can add a touch of pizzazz to the blistering summer and deliver a nutritious punch as well.
Flavoured/Fortified Milk:
Milk is the best natural source of calcium, a nutrient that is vital for bone formation and healthy teeth. However, most kids don't like the taste of milk. They are known to crunch up their nose and create a big fuss about drinking it. Chilled flavoured milk is the answer! It contains the essential nutrients present in plain milk. Another great option is to give children a glass of fortified milk to guarantee they meet their daily nutrient requirements of calcium and vitamin D.
Refreshing Lemonade Punch:
Lemonade is perhaps the most invigorating drink during the scorching summer heat. Rich in vitamin C, calcium, carbohydrates, and essential nutrients, the thirst quencher is very easy to prepare. Cut the fresh lemons, remove seeds and squeeze the juice into a pitcher of water. Add honey, ice cubes and a few sprigs of mint for flavour. The sweet and citrusy beverage is healthy and truly refreshing. And yes, not just kids, even adults love it!
Double Malted Chocolate Shake:
This delicately sweet and totally kid-friendly chocolate shake is a winner. What's more, it's a cinch to whip up. Blend chocolate ice-cream, soymilk, and malted powder until the texture is smooth and creamy. Pour the mixture in tall glasses and watch your children slurp the deliciously healthy shake with delight.
Vanilla & Cinnamon Milkshake:
The combination of vanilla and cinnamon is hard to match. Blend milk, whipped cream, a small cinnamon stick, freshly grated nutmeg powder, and vanilla extract to form a smooth, rich texture. Pour the frothy mixture in a tall glass with a dollop of vanilla ice-cream and some cinnamon powder for varnishing. Voila, you have a smoothie that kids will find irresistible.
Pour this filling on top of the now cool crust before baking it for about 40 minutes at 325 degrees F. Now, turn off the oven and let the cheesecake cool down before transferring it to the refrigerator for about 8 hours. Once done, you can then use fruits of your choice for the toppings.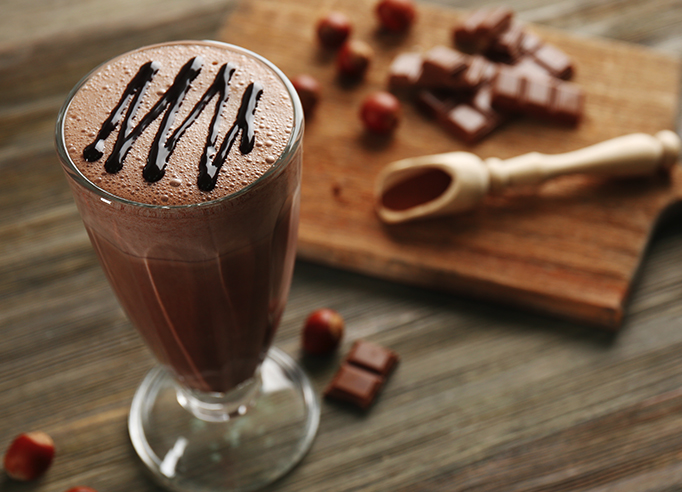 Sweet/ Salted Lassi:
This tasty beverage is ideal to cool off when the mercury is soaring. Concocted with churned yogurt, salt and a dash of fragrant spices, the healthy drink bursting with proteins, calcium, and vitamin D provides energy, prevents dehydration and improves digestion. And yes, you can swap the salt with a natural sweetener if your child has a sweet tooth.
Energising Coconut Water:
Coconut water is a cool and restorative drink that is perfect to beat the heat. An excellent source of vitamin C, calcium, dietary fibre, antioxidants, electrolytes, and minerals, it keeps the body hydrated, nourished and energised. What's more, it boosts metabolism and enhances the immune system of children.
Easy-to-Make Fruity Smoothies:
Fruit-based smoothies are lip-smacking and full of flavours. Not to mention, they can be made in a jiffy. Just toss any fruit (bananas, strawberries, oranges, cherries, pineapple, peaches, mangoes etc.) into the blender with a splash of milk/fruit juice along with some honey and puree until you get a smooth consistency. The thick and yummy smoothies are a storehouse of nutrients that ensure your children get their daily dose of fruit.
Watermelon Slush:
The slush is delicious and super easy to prepare. Put diced watermelon, some lemon juice, a wee bit of sugar, crushed ice, a few mint leaves, and half cup water into a blender and give it a whirl until it's nice a frothy. Rich in antioxidants, calcium, and vitamins, your kids will absolutely relish this fabulous drink during a hot summer afternoon.
What say, moms? Ready to try these delicious treats brimming with nutrition? Trust us they will definitely keep your kids well-hydrated, refreshed, happy and healthy this summer!