Yummy Ice Creams Kids Can Make at Home
Kids just love ice creams. Their love for ice cream generally reaches an extent where a large number of moms prefer mastering the art of making ice creams at home. But how about letting your child wear the apron and handle the ice cream preparation every now and then?
It is one of the best ways to spend quality time with your kids and it also helps them in multiple ways. For instance, understanding recipes can help improve their reading comprehension and teach them math. It also helps them learn an important life skill and also improves their confidence. On top of it, kids would just love the fact that they are having ice cream that they have prepared themselves.
So, to make this possible, we have created a list of some of the easiest ice cream recipes that kids can easily prepare at home with just a few ingredients.
1. Banana Chocolate Ice Cream
Ingredients:
- Peanut butter- 1 tbsp.
- Cocoa powder- 1 tbsp. (sifted)
- Bananas- 4 (peeled and sliced)
Place the banana slices on a baking paper lined tray and freeze for about 2 hours. Place the bananas in a food processor and pulse a few times until creamy. Add cocoa powder and peanut butter to the banana and pulse again until the ingredients are thoroughly mixed.
Serve as it is or place this mixture inside a refrigerator for 2-3 hours and serve it cold. Make sure that you are around when the child uses the food processor or you can handle the blending part yourself.
2. Strawberry Gelato
Ingredients:
- Strawberry- 2 cups (frozen or fresh)
- Honey- ¼ cup
- Lemon juice- 2 tbsp.
- Egg whites- 2
Take a medium-sized bowl and add strawberry, honey, and lemon juice. Mash or use a stick blender for creating a smooth puree. Line a cake tin with baking paper and pour this puree in it. Place it in a freezer for about 2-3 hours.
Take a separate bowl and for beating the egg whites until they are frothy. Now, take the frozen mixture and add it to the egg whites. Use a stick blender and blend until the mixture is fluffy and light. Pour the mixture into a serving dish and freeze it again for about 2-3 hours.
3. Vanilla Ice Cream (No Blender)
Ingredients:
- Fortified milk- 1 cup
- Heavy cream- 1 cup
- Sugar- ½ cup
- Salt- 1 cup
- Vanilla extract- 1/2 tsp.
- Ice- 10 cups
- Towel for insulation
- Freezer bags- 3 (1 gallon each)
Take a freezer bag and add heavy cream, milk, 1 tsp. of salt, vanilla extract, and sugar to it. Before sealing the bag, try to remove as much air as possible. After sealing the bag, mash all the ingredients with hands. Take another freezer bag and add around 5 cups of ice and ½ cup salt. Remove the air and seal the bag before mixing the ice and salt from the outside.
Repeat the same with the third freezer bag too. Now, take a towel and place one ice bag on one half and place the bag with ice cream mixture on top. Above the ice cream mixture bag, place the second ice bag. Use the other half of the towel for covering the three bags.
Let the ice cream freeze for about 20-40 minutes inside the towel and sandwiched between the ice bags. Your vanilla ice cream is ready without any blending or refrigerator.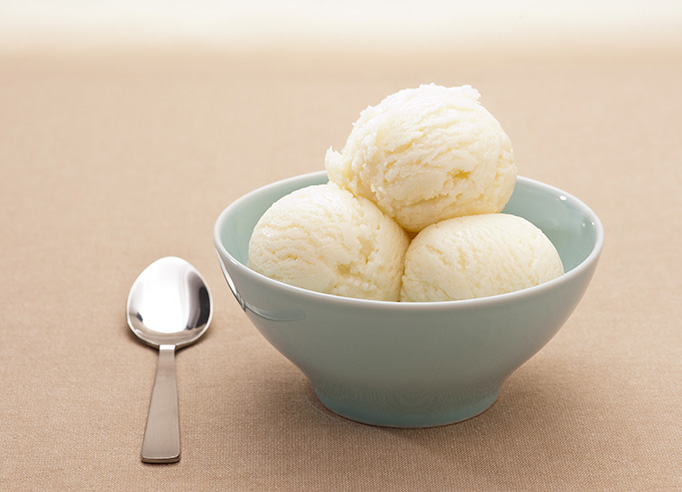 4. Lemon Sorbet Ice Cream
Ingredients:
- Condensed milk- 1 tin
- Lemon squash- 3 cups
Whisk condensed milk and lemon squash in a bowl to mix them well. Pour this mixture into a tray or tub and place it inside the refrigerator for about 5-7 hours. Once the mixture is set, use a blunt knife to roughly break up the mixture.
Now place it in the food processor and blend until smooth. Back to the freezer for about 3-4 hours. Serve chilled in scoops.
5. Mixed Fruit Popsicles
Ingredients:
- Fruits of your choice- 2 cups
- Lemonade- 1 liter (sugar-free)
Cut the fruits of your choice into small pieces. Arrange them inside the popsicle molds in the order of your choice. Just make sure that the fruit pieces are closely filled inside the molds so that they do not move. Pour some lemonade in each mold to fill them. Gently tap the molds to remove trapped air bubbles.
Place the molds inside a freezer for about 2-3 hours and serve them chilled. Colorful, easy to make and super delicious.
Making Super Easy Ice Creams at Home
As you can see, all the ice cream recipes listed above are super easy and require minimum supervision. If your child wants to do something interesting on a boring summer afternoon, then these ice cream recipes are sure to keep him/her busy and excited.
Prefer healthier ingredients such as replacing whole milk with fortified milk as this will ensure that their favorite ice cream is not just delicious but healthy too.