"Shake" and Start your Kid's Day
Healthy Shake Ideas for Breakfast
As Mommies, it's often a common struggle thinking up a Plan B for your kid's breakfast. Apart from the nutritious value of the meal is to be kept in mind, a lot of thought needs to go towards- how tasty the food stands in your child's record palate.
Ever imagined ending this daily battle with easy-to-make healthy breakfast shakes? Here a few reasons why shakes can be a perfect grab in the morning.
- Shakes instead of fatty foods for breakfast can help save you from extra calories, for instance, an average of 400 calories per day.
- They can increase the rate of metabolism which is indispensable in the growing years.
- They help in keeping the balance of glucose level in the body well-maintained.
- Also elevate your kids' energy level.
- Most shakes use yogurt or milk that enhance levels of Calcium and Vitamin D in the body.
Make them Marvel at your mango shake
It's not for no reason that mangoes have taken the title of being the "king of fruits"- there are very few kids who don't love these juicy, soft and sweet delicacies. Mango shakes are quite common for breakfast and are a children pleaser. Here are the steps that you need to follow for making a mango shake:
- For this awesome summer drink, you need Alphonso mangoes, milk, water, ice cubes and sugar or honey or jaggery.
- Rinse, pat, dry, peel and chop the mangoes and then, add them in a blender.
- Now, pour milk and ice cubes and blend properly till mixture is smooth.
- This takes 15 minutes.
Avoid keeping mango milk shake out too long and serve fresh! According to Ayurveda, mango and milk is such a combo which can be taken at any time of the day with zero side effects.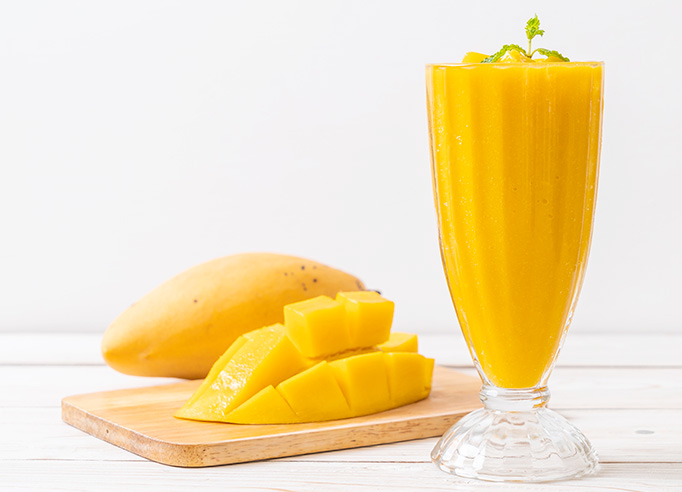 Beat their expectations with this beetroot shake
If you're looking for a special weekend shake that's an instant hit among your kids, beetroot shake might be a great idea. With its creamy and earthy texture and several health benefits, here are the steps for making it:
- Have some blueberries, beetroot, almond pineapple, ground flaxseed, honey and yogurt ready. Yogurt may be made at home with your readymade milk or bought in market.
- Blend the almond milk, blueberries, beet, flaxseed, pineapple and yoghurt together in a mixer until smooth.
- Add some honey and if you're looking for a smoother texture, blend once more.
- This takes no more than 15 minutes.
Balance the level of beetroot and berries tactfully.
Delish your day with a glass of date shake
Dates are highly nutritious fruits that are rich in fibers, disease-fighting antioxidants and promote brain neuron health. They are also good for the skin and contain important minerals like calcium, iron, phosphorus, potassium, magnesium and zinc. The following are the steps for making date shakes:
- For making date shake, you need milk, sugar, ice and deseeded dates.
- You have to mix the milk and dates together in a blender.
- Now, add the ice cubes, some sugar or other sweeteners and blend again.
- This takes a total of 15 minutes.
All arms come together for an almond and saffron milk shake
This nut-based milk shake is as rich in health benefits as it is delicious. For instance, almonds help in maintaining healthy blood pressure and correct levels of glucose and cholesterol in the body. They also help in subduing hunger and thereby, enable weight loss.
- For making an almond and saffron milk, you need almonds, walnuts, flax seeds, milk, honey and saffron strands.
- Grind the flax seeds, walnuts and almonds into a crumble right in the beginning.
- Now add the crumble to the blender along with milk, honey and some almond strands pre-soaked in milk. Avoid too much saffron because it gets overpowering easily.
- Serve chilled.
- This takes a total making time of 20 minutes.
Some tips before getting on with these healthy and delicious shakes
- Using chilled milk, curd or yogurt for making the shakes will not only give them a vibrant flavor but also enhance consistency. Fruits may be fresh or refrigerated.
- Clean your blender or mixer each time after use.
- For perfect flavor, go for fruits that are just ripe. Overripe or sour ones might ruin the taste.
- It's ideal to serve the shakes to your kids immediately after preparation. Avoid storing smoothies for more than 2-3 hours at most.
Are you still unsure about usurping the food value by giving your kid or teen smoothies instead of a seemingly full breakfast? Then, give these healthy and hearty shakes a try today itself and be your own decider!