Yummy Mummy Recipes for Kids Who Don't Like Milk
"I don't like milk! Can't I have something else instead?"
Coercing your kids to have milk is a common struggle for most mothers in India. But as milk is loaded with a host of vitamins and minerals, your child would definitely pass on some very essential nutrients by not consuming milk on a daily basis.
If you have tried every trick in your book, including flavored milk and drink mixes, but to no avail maybe it's time for you to get a little innovative with the recipes. To help you out, we have created a list of some great milk-based recipes to make sure that your child consumes milk without even realizing it.
Strawberry Bonanza:
Ingredients
- Shakes instead of fatty foods for breakfast can help save you from extra calories, for instance, an average of 400 calories per day.
- ½ cup oats
- 80ml milk
- Strawberry yogurt
- 5ml vanilla extract
- ½ cup fresh strawberries
Add all of these ingredients to a blender jar and blend them until a thick paste is formed. Take out the paste and add one spoon of it to a glass full of milk before serving. Add 1 tbsp. of honey for sweetening the milk if required and avoid processed sugar.
The paste can also be stored inside the refrigerator for up to 3 days. Prefer fortified milk over whole milk as it contains added Vitamin D and Calcium.
Banana Chocolate Frappe:
Ingredients-
- 1 glass milk
- 1 tbsp. unsweetened cocoa powder
- 1-2 ripe bananas
- Vanilla-flavored yogurt
- Ice cubes
Slice 2 large bananas and freeze them for about ½ hour. Add milk, banana, cocoa powder, yogurt, and ice cubes in a blender jar and blend until the ingredients are frothy and smooth.
Delicious banana chocolate frappe is ready. You can also top it with some chocolate sprinkles to make it look delicious too.
Tropical Pineapple Delight:
Ingredients-
- 200ml fortified milk
- Pineapple-flavored yogurt
- 1 tbsp. dried cherries
- ½ cup pineapple (crushed)
Add all of these ingredients to a shaker jar and cover the jar tightly. Shake the jar vigorously until all the ingredients blend and create a thick shake. Add a couple of ice cubes before serving or refrigerate for up to 1 hour. You can also blend all the ingredients in a blender but if you are looking for a quick fix, a shaker jar is fine too.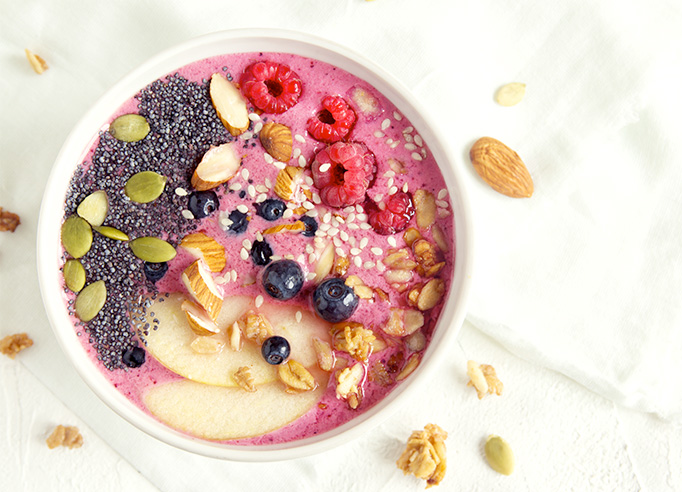 Raspberry, Banana, Almond and Yogurt Smoothie:
Ingredients-
- 1-2 ripe bananas
- ½ cup plain yogurt
- 150 gm frozen raspberries
- 250 ml plain or fortified milk
- 4-5 crushed almonds
- Honey, if desired
Cut the bananas into small pieces and add them to a blender along with the other ingredients. Blend until smooth. Add some milk if the smoothie is too thick. Add about 2 tbsp. of honey if desired. Serve chilled along with the breakfast and rest assured that your child will love the amazing flavor.
Blackcurrant and Strawberry Blast Smoothie:
Ingredients-
- 250 ml milk
- Blackcurrant yogurt
- 1 cup raw spinach
- 1 cup fresh strawberries
- 1 banana
- 1 tbsp. lemon juice
Add all of these ingredients to a blender jar and blend until a smooth puree is formed. Add two ice cubes and serve cold. Most kids hate spinach in vegetables. However, it is an excellent source of iron, folic acid, calcium, Vitamin K, and Vitamin C.
The delicious taste of blackcurrant, strawberry, and banana in this smoothie will easily conceal the flavor of spinach and milk and will definitely turn into your child's favorite in no time.
Dry Fruits Milkshake:
Ingredients-
- 3 cups of milk
- 5 almonds
- 5 pistachios
- 5 cashews
- 5 raisins
- 2 figs
- 3 dates
- 3-4 strands of saffron
- 1/4th tbsp. cardamom powder
- 2 tbsp. honey optional
Soak the saffron strands in about 1 tbsp. of milk for about 10 minutes. Soak all the dry fruits and nuts in warm water for around 30 minutes. Once done, add the nuts, dry fruits, saffron mix, and honey in a blender and pour about 1 cup of milk. Blend until a smooth paste is formed. Now, add the remaining milk and blend the paste for about 30 seconds. Your nutritious dry fruits milkshake is ready to serve.
Making Milk Fun for Kids:
If your kid hates milk, you should definitely try these amazing recipes. Try them as they are or add your own unique touch as per what your child likes to make them more fun and delicious.
Keep changing what you serve on a daily basis and see how the hatred turns into a relationship full of love, nutrition, and loads of health benefits.