How can you feed your fussy child? - Notes from a mother's diary
Fussy and picky eating is a common problem among children. Many children often avoid eating foods they don't like and eat only a restricted number of items like sugary items, fried foods, and junk food. However, encouraging such picky eating is not a good habit since it does not teach your child to eat different varieties of food. It can also stunt and hamper their growth because their bodies do not get the required nutrients.
Giving in to your fussy child's tantrums will only lead to health problems in the future as the child will not be exposed to different types of food. Preference to one type of food for example sweet, can lead to obesity. If you have a fussy child who is a picky eater, follow fellow mother Aarti's tips and tricks that she uses to feed her fussy child, Akash.
Aarti is a homemaker based in Bangalore. Her five year old son Akash is very picky and prefers eating sweets and fried snacks over healthy dishes such as vegetables.
Notes from a fussy mother:
My son Akash is the apple of my eye. The one thing I dread is meal times. Akash is extremely moody when it comes to food. His cravings can range from something sweet and fried to something completely random like demanding kheer in the evening. Feeding him was turning out to be a big pain. I had to run behind him for almost an hour every day to feed him and he never finished his meals. Forget healthy food items, I couldn't feed him anything with vegetables in it.
I used to devour every article about fussy eaters and try and apply it on Akash with limited results. Finally, I tried to reinvent my food creatively and it worked. By reworking his meals and introducing him to new foods, I slowly got Akash to eat a wider variety of dishes including vegetables.
I introduced rice and dal into his diet. Akash hated the taste of roti but when I made rice and served it with a sweet dal, he managed to polish it off. I added a spoonful of ghee to give him the essential fats. I discovered my son enjoyed eating rice and once I discovered that, I slowly started experimenting with rice dishes.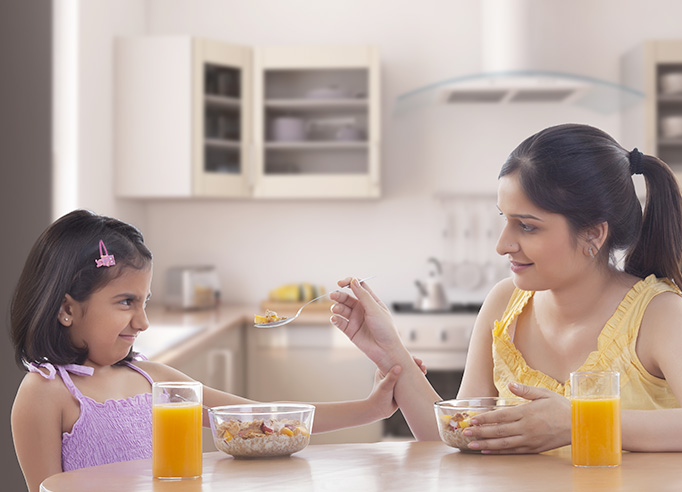 If your child doesn't enjoy the taste of roti, try feeding him rice or millets. By forcing them to eat only one variety of food, they might become more stubborn. Try introducing khichdi made from different ingredients. Foods like millets are an excellent source of minerals and vitamins and have a unique taste. Adapt this to traditional recipes and try out new recipes from other cuisines. For example, there are many different rice recipes that are made in South India. I tried my hand at the Karnataka favourite Bisi Bele Bath and Puliogare or Tamarind Rice, both of which my son relished. I added vegetables to these rice preparations to ensure the meal was more balanced.
If your child does not eat vegetables, it is possible he simply does not like the taste of the vegetables or the method in which it is cooked. There are a few ways to incorporate vegetables in your child's diet. You can make vegetable parathas. These can be either stuffed parathas or you can mix the vegetable in the dough itself.
Another tip I followed to ensure my child got adequate calcium was to make masala milk for him every night before he slept. Since the milk was sweet, he gulped it down. I added almonds, cardamom, nutmeg and turmeric to ensure the milk was more nutritious. I also introduced cheese slices into his diet.
One habit I struggled to shake for Akash was his love for fried snacks. With no choice, I started making different snacks at home instead of buying them readymade from the market. Since these snacks were made fresh, Akash enjoyed them more. I made vegetable samosas, pakodas and bhajiyas with the condition that he gets to eat them only if he ate his lunch properly. I also introduced grilled vegetable sandwiches and bhel, both of which ensured he ate vegetables.
I realized I could not change my son's sweet tooth. However, by making vegetables and dal slightly sweet and introducing food from other cuisines, I diversified my son's palate and tastes. That not only helped when we travelled outside (since Akash now ate a wide variety of dishes) but Akash was also more energetic and slept well.